These times can easily feel dark, frightening and lonely. But, we have this assurance: in far worse times, humanity has managed to sustain beauty and love.
In April 1942, Jewish poet Pavel Friedmann was isolated in a ghetto, surrounded by darkness, evil and death.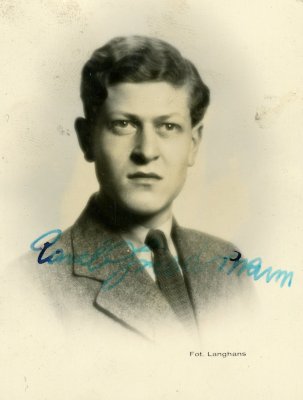 Friedmann wrote there "The Butterfly," a haunting poem that embraces the death surrounding him. But, it also celebrates the beauty of a single butterfly. The spring daisies, growing in spite of the darkness. A single dandelion. The white branches of a chestnut tree outside the room where he hides from the Nazis.
In the midst of ugliness, Friedmann chose beauty.
Anne Frank, suffering under the same evil, likewise chose to see light in the darkness.
"I don't think of all the misery but of the beauty that still remains," Frank wrote in her diary.
She gives us this advice: "Go outside, to the country, enjoy the sun and all nature has to offer. Go outside and try to recapture the happiness within yourself; think of all the beauty in yourself and in everything around you and be happy."
Seventy years after Anne Frank died in the Bergen-Belsen concentration camp, her simple words of defiant beauty inspired Marcus Paus to write the choral libretto "The Beauty That Still Remains." The young girl whose words outlived the darkness has inspired countless other works of beauty and courage.
Frank and Friedmann both died in concentration camps. But all the hatred and power of the Nazi killing machine could not snuff out their light.
I don't make reference to Frank and Friedmann to infer any kind of correlation between what we face now and what they had to endure. To be clear, they lived in a far worse time, facing a far deadlier threat. And yet, they persisted in finding beauty and light.
The point is, if they could find and create beauty in their own circumstances, how much more should we use this current experience to hone our skills at carving light out of darkness?
Fact is, this moment in our history is a challenge. But, that means it's also a tremendous opportunity. It's an opportunity to reconnect with the finer points of our humanity, with our loved ones, our passions and our inner selves.
The outside world is canceling the distractions on which we've come to depend. What remains to be seen is, how will we use this gift of isolation and time?
We can squander it, posting endless social media posts about fear and death. Or, we can choose to see and spread the light around us.
Friedmann and Frank outlived their murderers simply by seeing the beauty of flowers and butterflies. How much more can we do?
There is so much we can do — must do! — with this precious time.
Learn to love art again. Pour your heart into painting, drawing, dancing, music, crafting and creating. It doesn't matter if it's bad or good. Just cast beauty into the world with reckless abandon.
If you must use this time on social media, for the love of God show us your pets. Show us your kids. Show us what you cook for dinner. Show us your worst attempt at kitchen table art. Do not infest the world with more fear and ugliness.
Spend quality time with your family — with those sharing your small island of quarantine. Dust off the board games. Talk to each other.
Relearn the lost art of letter writing. Send selfless notes of love and beauty to nursing home residents you've never met. Let your love pour into their hearts in ink.
Shop and spend at small businesses. Order takeout and give the delivery driver a stupid big tip.
Spend some quality time with your dog, and reflect on what an amazing gift animals are to us.
Plant flowers and herbs, and wonder at the gifts of nature.
Slow down. Take luxurious naps. Take that bath you've been meaning to take. The long one. With those bath salts that have been collecting dust for three years, waiting for you to take a break.
Read those books you've been waiting to read. Write a short story. A haiku or two. It doesn't matter if they're horrible. A poorly written story does more good for the soul than hours of sitting and worrying.
Reach out to your elderly neighbor. The at-risk folks. Reach out to complete strangers. Do they need groceries? Toilet paper? Medicine? A kind word? Offer them selfless, boundless love and charity.
If you're a person of faith, use this time to strengthen and go deeper into prayer and meditation. Find the beauty within, which no virus or evil can touch.
Use this time to live richly. Rich in love. Rich in beauty. Rich in hope.
We will be defined by how we use this time. Let us use it wisely, and use it with wild abandon in the cause of beauty and love.
If we do that with truth and courage, perhaps we will come out of this acting and thinking a bit more like we should have in the first place.